Welcome to another edition of WIAW!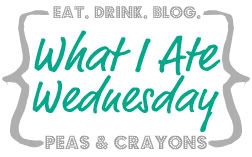 Fun fact: Yesterday I didn't leave the house. I did go outside for a minute to take out the trash, but otherwise I stayed inside the entire day. Oh, well. I did manage my favorite yoga video and some delicious food.
Today turned out quite differently. I woke up early and headed straight for the kitchen to feed Scout and cook up some blueberry pancakes to enjoy with my tea.
Yesterday I made a batch of my whole wheat buttermilk pancakes, threw in half a cup of frozen blueberries, and stuck it in the fridge for an easy meal throughout the week.
Sometimes I'm brilliant. It worked out perfectly, especially yesterday when I had a hunger attack at 10:30.
Luckily, today's breakfast did a better job of holding me over. I got a few chores done around the house, and then Jenn came over for an awesome workout. Jenn's getting married in about seven months, so she requested that we start focusing on arms. I'm all for keeping my arms in shape while my belly grows, so we knocked out this superset workout:
And then we took a 30-minute walk around my neighborhood in the ridiculous heat. It got to over 80 degrees today. Are you kidding, LA?
By then I was ready for lunch, so I dished up leftovers from yesterday's kale salad (<--loving the comments on that post, by the way) and toasted up a piece of whole wheat bread with some burrata. Yummmm.
But of course I was hungry again soon after that, so I added some protein to my next snack: Greek yogurt, half a banana, a scoop of peanut butter, and a few chocolate chips.
And then came dinner: a quesadilla with carnitas (leftover from Saturday night's crock pot meal), sharp cheddar (I'm all about the New Zealand cheddar at TJ's), and corn tortillas, plus some sauteed spinach.
A bit later I had a piece of toast with peanut butter and jelly.
I did a little experimenting in the kitchen today, too, which became part of my dessert. I opted to wing it and combined graham crackers, homemade salted caramel, and my new favorite brownies.
Part of me feared that combining such decadent flavors might be too much, especially since pregnancy has dialed down my sweet tooth (so now I have the sweet tooth of perhaps an average person, instead of a chocolate-loving monster). And honestly, yes, it's a VERY sweet treat, but just one serving is a lovely way to end the evening.
Here's the recipe:
Caramel Brownies with Graham Cracker Crust
Makes 32 two-bite servings
Ingredients:
Graham Cracker Crust:
12 graham crackers, crushed (preferably whole wheat, like Whole Foods' 365 brand)
4 tablespoons butter, melted
1/2 cup granulated sugar
4 tablespoons butter (half a stick)
3 tablespoons heavy cream
pinch of sea salt
3 ounces unsweetened chocolate, chopped
6 tablespoons butter (3/4 stick)
1 cup sugar
2 eggs
1 teaspoon vanilla
2/3 cup flour
1/2 cup pecans (optional)
First, heat the oven to 350 degrees. Line an 8x8 baking dish with parchment paper. Clear a space in your freezer that will fit this baking dish.
To make the crust:
You can crush the crackers in a food processor, but I just did it by hand. Pour the crumbs into the parchment-lined baking dish. Then melt the 4 tablespoons of butter (in a separate dish or on the stove) and pour over the crumbs. Combine the crumbs and butter with a fork until evenly dampened. Then press into the pan so that the bottom is covered evenly. Bake the crust at 350 for 8-10 minutes, until lightly browned. Set the baking dish aside once it's ready.
Meanwhile, make the caramel:
In a small saucepan, melt the sugar (takes about 5 minutes) until it appears smooth and copper in color. Remove from heat, then stir in the butter until melted. Add the cream and salt, then return the pan to the stove and bring the caramel back to a simmer. Continue to stir, and allow the caramel to become just a bit darker.
Now pour the caramel over the graham cracker crust. It'll sink into the graham crackers a bit. Pop the baking dish into the freezer for at least 20 minutes, allowing the caramel to solidify. Turn off the oven for this part.
Finally, make the brownie layer. Heat the oven to 350 again. Melt the chocolate and butter in a double boiler. Then, off the heat, add the sugar, then the eggs. Stir in the vanilla, then the flour, then the pecans. Pour the batter on top of the caramel. Bake at 350 for 25-30 minutes, until a toothpick comes out clean.
Be sure to let the brownies cool, then cut into squares. I like to pull the entire dish out (grab the parchment by the corners once the dish is cool enough) and cut on a cutting board. Serve warm, at room temperature, or even chilled.