I don't know about where you are, but LA is ridiculously hot right now. Again. I'm running all of our fans, keeping blinds closed to avoid letting light and heat in, even sleeping with a cool washcloth, a suggestion from my friend Amanda. Scout is trying to find ways to cope with the heat, too.
I woke up ridiculously hot this morning at 6:30 and decided to just get up and hit the gym. I knew I might take a yoga class later, so I opted to focus on a quick strength workout:
Some notes:
I used dumbbells for all the exercises except the ball roll ins, but you could skip those to focus on form and balance if needed.
Side lunge + lunge pulses: Side lunge with your right leg (use dumbbells if desired), then step your left leg back into a lunge; pulse down into a low lunge three times; then pick up your left leg and step into a left side lunge to repeat on the other side. That's one! You'll do ten reps (so side lunge + lunge pulses 10 times one EACH leg)
Alrighty, here's what I ate on this impossibly hot day: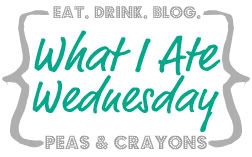 Breakfast: Plain Greek yogurt mixed with vanilla, plus blueberries and sliced almonds
A stop at Whole Foods resulted in a few bites of pineapple. Free samples? I'll take it.
Early lunch before yoga: 1/2 whole wheat pita (my very favorite pitas from a local bakery, sold at Whole Foods) with Havarti cheese, cucumbers, hummus, and avocado
Post-yoga snack: apple with peanut butter, plus a bowl of cereal (no photo--I realized I forgot after I ate it!)
Drink of the day: tons of cold water to cool down in this crazy heat!
Dinner: Caprese salad with spinach
Dinner part two: pasta with zucchini and spinach, plus marinara and mozzarella
Dessert: blondies with milk