Well, it's been quite a while, huh? Almost a week of no new posts, and I couldn't let another day go by without providing a little update. So here's what we've been up to!
Late Thursday night Terry and I drove up north to see my parents' new house. I'll post more "official" pictures once they have some decor and all their furniture set up, but it really looks wonderful. Terry kept saying that it really feels like their house, even after just a week.
I hit the 30-week mark!
(Tomorrow will be 31 weeks.) Oh, man, do I feel pregnant! I get pretty tired pretty quickly; I find lots of excuses to sit down; my back aches if I've been up and about too much. I'll give another pregnancy-specific update soon!
While up north, we celebrated a very belated birthday for my brother, and I made a little cake for us all to share.
We also got to visit with my aunt and uncle, who stopped by to see the house. My aunt is throwing my baby shower at the end of the month, so it was fun to talk details and get excited about it all!
Our drives up and back weren't too bad, and even Scout survived the trek. Poor thing--he hates car rides, but his Thunder Shirt seemed to help this time. He cuddled with whomever wasn't driving.
Oh, and baby is now kicking like craaaaazy! For a long time, baby was in breech, but I'm about 90% sure he or she has now flipped into the "proper" position (for birth). And now I feel kicks almost constantly!
Once back at home, Terry and I took our first walk in our new neighborhood! We journeyed down to a local park and even busted out a few lunges (two sets of 25, plus twice up the stairs at our complex). It was nice to get back into our routine.
Unfortunately, Terry then had to leave Monday night (immediately following the How I Met Your Mother finale--big night) for a few days in San Diego for work. I slept terribly Monday night, then drove down to spend the night with him Tuesday, then came back home early this morning.
Luckily, my mom took the opportunity to drive down to spend a few nights with me. She arrived around lunch today, we went shopping for some stuff we need for the condo, and tonight Jenn and Justin came over to see our new place and for dinner. It was so great to catch up with those two!
Finally making some progress...
And now, a whopping two photos of today's meals:
French toast, which was second breakfast (first breakfast was at 5:30 am in San Diego before Terry left for work--overnight oats with Greek yogurt, oats, milk, and peanut butter)
Lunch: chicken sandwich with mustard and cheddar cheese, cottage cheese, carrots, and a small salad
I only ate half the sandwich at lunch and then enjoyed the rest much later as an afternoon snack. For dinner, Mom made us all fajitas (onions, bell peppers, chicken, tortillas, cheese, avocado, salsa, sour cream), and Jenn provided a salad with greens, avocado, beans, corn, and spicy oil and vinegar (I think she said jalapeno-infused vinegar? it was delicious). No photos--apparently I was focused on the conversation. Dessert was a scoop of vanilla ice cream with some strawberries and white chocolate chips.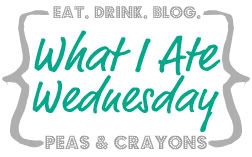 I'm off to bed with a resolution to post more regularly again! Now that we're moved in and somewhat settled (and not traveling anywhere for a while), let's hope some normalcy will return to BLWB as well as the rest of our lives!