I love challenges. I find myself more motivated and less distracted if I have a goal in mind, even if it's an arbitrary one. But yesterday's goal wasn't arbitrary. See, this September I'll "celebrate" my tenth anniversary of moving to LA. And I haven't exactly been sugar-coating my feelings about this city; it's most certainly not my favorite. I complain about the traffic, the smog, the lack of seasons. Complain, complain, complain. How dull.
So yesterday's goal--specifically during my walk to get my massage--was to brainstorm everything I love about LA. I focused in on the area where we live, and I shocked myself by discovering that the list really goes beyond "warm weather."
Here's what I love about just the walking-distance parts of where we live in LA:
We can walk to two Trader Joe's, a Whole Foods, a Sprouts, a Bristol Farms, and a City Target.
Tons of people walk everywhere, and I love the diversity around here. Students walking to and from class, tourists on vacation. Small groups of businessmen grabbing lunch together (usually groups of three, and usually men--my only explanation here is that perhaps women are more likely to bring lunch and therefore skip the restaurant). Moms with their kids at the park.
We get a little taste of that "city" feel but with neighborhoods nestled between the tall buildings.
I've talked a lot about the restaurants near our place; we can walk to (less than two miles away) at least 50 restaurants--not exaggerating. We are near Sawtelle, Brentwood, and Westwood, so we never run out of delicious places to try.
Culture abounds near our apartment, including the Hammer museum, several movie theaters, and, of course, UCLA.
When I feel frustrated with all the traffic and honking, I look to the left and see a quiet little street with trees and cute houses. The city constantly surprises me.
A lot of folks have pets. On a walk to the store, you're guaranteed to see tons of people walking their (usually tiny) dogs or running with their (usually giant) dogs. It seems the larger the dog, the faster the movement. Yesterday I saw a woman with two Toto-type dogs, and she was just standing there. The dogs were just standing there, too, and they seemed to be thinking, "Um...we wouldn't exactly call this
walking
..."
Of course, the greenery around here makes me momentarily forget that I'm living in a city.
And I guess I really can't complain about the weather.
Turns out, I actually really love where we live. I should probably take on a more positive outlook about it, since we won't be here forever!
Something I'm always positive about: food. Here's my WIAW!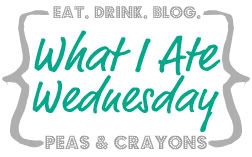 Check out the other WIAWs!
Today's theme was "Let's try to NOT eat everything in sight." I've been rather liberal with my food intake lately, and since I'm forcing myself to rest, I needed to chill out on the portion sizes. I think I did a good job, especially after a quick trip to Sprouts to stock up on more fruits for snacks.
In no particular order:
hummus-avocado-cucumber on a pita
banana with peanut butter and a glass of milk
Caprese salad with heirloom tomatoes
Greek salad with couscous (like this one)
cantaloupe
grapes
hard-boiled egg (can you believe this was maybe my second time boiling eggs?)
for dessert: ice cream with walnuts and chopped chocolate
It was a delicious day.
What do you love about where you live?