Not to make you jealous or anything, but I'm sitting in our hotel room in Maui as I type this post, and my view just cannot get any better.
Since our hotel sits only a few feet from the water's edge, we look out from our balcony and see only ocean. It feels like a cruise ship. In Hawaii.
Since Internet seems a bit less than reliable, I'm avoiding the massive photo post until we return home, but I still couldn't help but check in with a WIAW today. I'm sharing some highlights of our foods so far rather than just a full day of eating. We'll call it WIAW: Maui Style.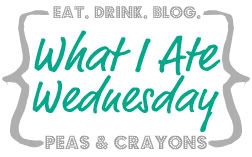 Check out the other WIAWs!
Upon arrival, our very first stop was
Aloha Mixed Plate
. If you
follow me on Instagram
, you saw photos of my excitement. If you come to Maui, this place serves up local foods like Loco Moco and "mixed plate" items. I ordered the fish, beef, and chicken plate, which came with brown rice and macaroni salad. And the happy hour mai tais made me feel like we were really on vacation!
Breakfast yesterday was at
The Gazebo
. My parents took Terry and me there last March when we visited them, so we returned hungry for more. I ordered the veggie omelet, and Terry took on the banana macadamia nut pancakes plus a side of fried rice. Everything tasted phenomenal, and the view made me almost as excited as the food. I really can't recommend this place enough, even if there is a bit of a wait. We waited about 30 minutes at 8:30 am on a Tuesday, and the line seemed to be longer when we were leaving. But it really is totally worth it.
Last night's dinner took us to
Plantation HouseRestaurant
, located in a very fancy and seemingly exclusive club on a golf course. But the views—oh, my goodness, the views took my breath away! I tried to discreetly capture a photo from one of the windows, but actually the restaurant's main room has floor-to-ceiling windows on each side and overlooks the golf course plus the ocean, as well as another island. We ate early enough to see the colors of the gorgeous sunset. The food tasted delicious: We chose a few appetizers (the scallops were a huge hit), and for my meal I chose the salmon. It was perfectly cooked and served with Brussels sprouts and couscous. Terry enjoyed the lamb special. While this place certainly is pricey, it is a great choice for a special occasion.
Today we're heading to the Maui Brewing Company for some pre-dinner beer tasting, and we loved it last year when we came. The food is fairly typical bar food, but the beer options are impressive for Maui!
If you have any dining suggestions for us while we're here in Maui (we have a few more days), please share in the comments below or e-mail me at
abetterlifewithburgers@gmail.com
.
Hope you have a safe and happy 4th of July! Any big plans? I love hearing about people's traditions for 4th of July and Labor Day. I'm not sure why, but these two holidays always seem so fun and low-key. When we aren't in Hawaii (so every other year), we usually spend the Fourth at the delta waterskiing with my family. They're there without us this year, but I hope they'll at least have a drink for us!