Hello from Maryland! I'm currently chilling at the airport in Baltimore before my (slightly delayed) flight to Buffalo.
Before I continue, I just want to say thanks for the response to the
"chaotic" graphic and super tough workout yesterday
! Sometimes we need a tough workout to feel awesome about ourselves, and I think that one did the trick!
I can't help but be impressed by this airport! I stepped off my first flight to find a plethora of dining options. Good thing, because I totally ignored all my normal travel rules and brought NO food with me today. I usually pack meals--or at least snacks--to keep myself feeling good throughout the day. But not this time. I was already on the freeway this morning when I realized I forgot to eat breakfast.
To be fair, I had to leave the house at 4:50 this morning, and it was a miracle that I even woke up, since falling asleep just was not what my body had in mind last night. (I didn't mind too much, because Scout crawled on top of my chest and settled in for a snuggle right around 11 pm.
I'll take that over sleep any day.) Luckily I had packed everything last night and just needed to throw a few more items in my bag, make my tea, and feed the kitten before leaving.
I also can't complain about the 405 at 4:50 am. Home to the airport in under 20 minutes! Thankfully, things moved smoothly from there. I parked, hopped on the shuttle, and made it through security with plenty of time to spare. So naturally, my first priority was breakfast.
(It's blurry because the lighting sucked and I didn't want to take eight pictures to get a good one, but you can pretend it's because I was in a rush. Adds to the drama!)
A KIND bar did the trick, though the single bag of peanuts I had at the beginning of my four hour flight to Baltimore probably could have been supplemented with a piece of fruit.
As I mentioned, I found plenty of choices for a late lunch at BWI, but I chose Chipotle because I know the quality is consistent. Plus--bonus I discovered at the end of the line--free water!!! I packed my water bottle to refill, but chilled water is so much more refreshing, so I gulped down about 24 ounces with my lunch.
I'll land tonight around 6:30 (as long as the flight doesn't get delayed further), and Terry is taking me to one of his favorite Buffalo dives (my friend Jenn, who is from Buffalo, also loves it),
Jim's Steakout
. I obviously don't have a photo yet, but Terry went a couple times while he's been out there, so here you go:
I've only had Jenn's homemade versions, which are utterly delicious. I'm actually a little worried I won't like the original as much, but I'm willing to try. The things I do for the sake of research, I tell ya.
I haven't done my usual snacks and small meals today, but I'm sure I'll be back on track tomorrow. Traveling days are always tough, even when I'm 100% prepared. But I'll continue chugging water (thanks, Chipotle!) and hopefully I'll find some fruit along the way. I'm off to grab a tea and board my flight. I hope you had a spectacular Wednesday!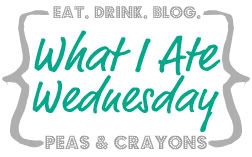 Be sure to check out the other WIAWs!