Happy What I Ate Wednesday! I'm still suuuuuper sore over here from this madness:
Looking back at the
original post
for this workout, I now realize that I only used weights for the deadlifts. No wonder yesterday was so hard! We used weights the entire time: 10-lb. dumbbells for me for all exercises except the Romanian deadlifts, for which I used 15 pounds. (Terry, champ that he is, used 20-lb. weights the entire time.) Yowza. Walking today is a little rough.
Now I'm back up in Northern California again to help my parents finish packing up their house. We moved a few items into their apartment today and will continue packing and moving throughout the week. Here's what I ate on this day of travel, moving, and relaxing.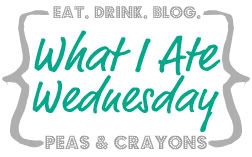 Breakfast: leftover pancakes from last night with peanut butter and maple syrup, plus berries on the side and some tea
Lunch: a small sandwich
And a peach!
Snack: salami, cheese, and crackers
Dinner: steak, half a sweet potato (baked with butter and salt), and half a corn on the cob, plus a glass of wine
Dessert: shortbread cookies
I'm already looking forward to a solid workout tomorrow, since I took it pretty easy today. Mom's taking me to a Zumba class at her gym, and I'm hoping to squeeze in an upper body workout before that. Like I said the other day, hanging out with my parents usually means I'm in the midst of a fitness retreat. And I kind of love it!