I know school has already begun for many school districts, but technically we still have another month before fall officially starts. To celebrate, I created a quick and sweaty Tabata workout!
Here's how Tabata works
for each set:
Complete the first exercise (in this case, the first exercise in the first set is lunges) for 20 seconds
Rest for 10 seconds
Complete the second exercise (in the first set, jumping lunges) for 20 seconds
Rest for 10 seconds
Repeat those steps with the same exercises three more times--four minutes total
Then you'll move on to the next set (in this case, push ups and reach 'n' rolls), repeating the 20 seconds on, 10 seconds off pattern for four minutes. Continue with the third and fourth sets--and then you're done! All in just 16 minutes of work (though, if you're like me, you'll take a minute or so between sets to breathe!).
Here are some links to help with the moves:
Push ups - on your knees or on your toes; just keep good form (shoulders, hips, and knees/toes in line)
Terry will be testing this Tabata in his hotel room in Buffalo. He hates jumping lunges, so I'm sure I'll get an earful about those. If you try it, let me know what you think!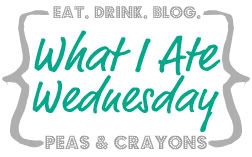 Today's WIAW started pretty pathetically; we had a sad, empty fridge this morning and I had to roll with just two eggs topped with a little maple syrup, plus tea.
I grabbed a spoonful of peanut butter late morning
And then I headed to Terranea in Palos Verdes to meet some of my former coworkers for lunch at
Nelson's
. I went with the mahi mahi tacos, which were absolutely delicious.
I also most certainly enjoyed a little of each of the
three
desserts we all ordered (there were seven of us, so it's not as bad as it sounds)! Oh, and can we talk about the views at Terranea?
For dinner, I whipped up some marinara sauce, roasted eggplant, and brown rice pasta--I had to wing it, but it was surprisingly delicious
For dessert, a banana with peanut butter and honey
Not a bad day! Hope your Wednesday was awesome. We're inching closer to the weekend!