How life has changed since our little guy entered our lives.
(I'm convinced that he's doubled in size.)
The highlight of my week so far was a casual dinner out, all three of us, on Monday night. It was our first time out to dinner in about two months, a mellow and delayed nod to our
anniversary
. We haven't exchanged gifts this year (we gave each other the gift of a beautiful baby boy and no more sleep), and maybe that's bad. Maybe we should have acknowledged our three years as a married couple more profoundly. But when we got to dinner and settled into a booth, the car seat next to me with Marshall snoozing happily, Terry across the table deciding which beers we should order (he always chooses, because he's good at it), I didn't need a gift. Our family is my gift. (At least this year.)
Another highlight was yesterday afternoon, when Terry took the bus home and got off several stops early. Marshall and I met him, and the three of us enjoyed a walk near the beach. First we strolled through several blocks of fun shops and restaurants, a neighborhood we hadn't really explored until this little walk. Then we took the long way back to the car, weaving the stroller around bikers and runners along a path by the beach. I fed Marshall on a bench overlooking the ocean, and Terry carried him back to the car so he could check out the surroundings.
We laughed at how serious he is all the time. He's slowly and very infrequently starting to smile at us, but I think he's going to be serious, just like his daddy. In fact, from what I can tell so far, he's essentially a clone of his dad.
Terry has always been very serious (though I have seen him loosen up a lot over the last eight years), and Marshall really makes us work for a smile, choosing instead to study our faces and decide if we're worthy. Terry and Marshall are also very patient. We have only heard Marshall
really
cry a handful of times in his young life, mostly because he very gently lets us know when he's ready for a feeding or diaper change. At night, he'll squirm and grunt for a long while in his co-sleeper, and when I wake up to get him he greets me with wide, calm eyes, as if to say, "Oh, hello there. I was hoping to see you here. Perhaps, if it's not too much trouble, could I bother you for some milk?" I think he'll have a British accent when he begins speaking.
It's fun to speculate what Marshall's personality will be like as he grows up. Will we be right about how serious he is? Or is it just that he has a very dry sense of humor like his mom? Will he continue this glorious habit of not really crying much, just fussing to alert us to his needs? Or is he just saving his energy for future months? Will he be more like his dad or his mom? Or perhaps a blend of both? I love imagining it all and knowing that all our guesses will likely be completely wrong. We joke that Marshall has some pretty solid genes to become an athlete and think about how funny it would be if he turns out to loathe sports.
Anyway, as we get to know him better and introduce him to the chaos of being part of our family, I am plunging into WIAW again! Today Marshall gave me some really good naps, so I even managed to enjoy several meals instead of just grabbing snacks.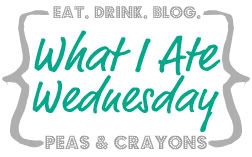 (Overcooked) scrambled eggs, because I forgot about them while checking on M, plus a tortilla and some salsa
Cherries, which I munched throughout the day
Simple tuna sandwich. Actually, it was the most bland tuna salad I've ever made, but I forced it down.
The most epic yogurt bowl with all my favorite things: plain Greek yogurt (we buy Trader Joe's full fat plain Greek yogurt, and we love it), peanut butter, a drizzle of honey, sliced banana, chocolate chips, and sliced almonds. YUM.
Bowl of cereal
Homemade Lara bars
(I roll them into balls because cutting them into bars is too much work)
Homemade nachos--we at at 9 pm after Terry got home late from work and we finally got the little one to sleep. I sauteed up some ground beef, onions, and bell peppers, then piled up tortilla chips, cheese, the beef mixture, Greek yogurt, onions, and (unpictured) guacamole. It was actually a fun meal!
And a beer. It was delicious.
Oh, I also ate a few chocolate-covered almonds, but I devoured them before I remembered to take a photo.
Happy Thursday to you!
If you have kids (or if you plan to), do you (or did you) like to guess what they'll be like?
An interesting read: You have
940 Saturdays
with your child before he or she turns 18. (We're already down 8!)
Also:
How to Stop Comparing Yourself to Others