First of all, thanks so much for all the supportive, positive comments on
Marshall's birth story
. Sounds like I'm not alone in struggling with my emotions about labor and delivery, and I appreciate hearing from others who have experienced something similar.
If you've been reading for the last few months (thank you!), you've undoubtedly noticed that I'm not exactly loving our new location. I'm trying to be positive about the place (tons of stores nearby to make errands and grocery shopping super quick and easy; a safe, peaceful neighborhood; lots of privacy; plenty of chances to explore new areas), but I do miss our old neighborhood. We could walk any direction for awesome people watching, pedestrian-friendly zones, even cafes and restaurants. I realize it would have been a lot to ask to find the same thing in our new place, but I'm bummed that we really have to drive to find any pedestrian-friendly areas here.
Luckily, once we recognized that our
immediate
area isn't awesome for walking, we simply decided to make more of an effort to drive the few minutes it takes to get somewhere better. If it gets us out of the house and into the fresh air, it's worth it. So lately I've been on a mission to find places to walk, and I think our new favorite spot is The Strand in Redondo Beach. Actually, we first discovered it (I had heard of it but never dared admit to anyone that I didn't know what it was) when I was super pregnant!
The Strand is a long stretch along the beach spanning a few of the beach cities. Tons of folks are out there any time of day--cyclists, runners, couples walking with strollers, families biking together, girlfriends walking and chatting, you name it--so I feel like I'm in good company. There are designated walking/biking paths, so the stroller has no trouble navigating around. Parking is free, a major bonus in LA.
The whole area is like a walker's dream. Shops and restaurants ("Riviera Village") line the streets one block up from the beach. Another block or two up from that is a Trader Joe's, a Wahoo's, and a few other popular spots. There's even a small farmer's market on Fridays.
The walking paths (there are a few to choose from, all parallel to each other--one right on the sand, one a little elevated, and one at street level) stretch quite far, and yesterday Marshall and I walked 3.5 miles round trip when we visited the Redondo Landing pier.
Terry and I talked last week about how we miss our evening walks and how hard it's been to keep up an exercise schedule since Marshall arrived. It's easier for me, because I can take him walking every day, but I miss running regularly, and he's not ready for jogging in the stroller yet. So we came up with a solution: once a week, we'll meet at The Strand. We'll spend an hour walking and taking turns jogging so the other person can walk with the stroller. Today was our first time out, and it was awesome!
Aside from the perfect weather, Terry got to run (I am super sore from a pretty sad little workout I did yesterday, so I just walked), we got to chat and catch up on each other's days while Marshall hung out happily in his stroller, and we got some fresh air and exercise. I clocked over four miles according to my FitBit (about 10,000 steps), and we simply enjoyed it. It's definitely going to be easy to convince ourselves to make this beach walk a regular thing!
I'm still exploring other walking areas, but another favorite is Terranea, the resort near us. The walking path is just less populated, so the people watching isn't as entertaining when I'm alone with Marshall.
Alright, let's move on to WIAW!
Breakfast: my new go-to--oatmeal with raisins, a splash each of maple syrup and milk, peanut butter, and some granola. Enjoyed atop a Dr. Seuss book with little feet kicking near me.
A snack: yogurt with honey, almonds, and chocolate chips. Someday I'll have to stop using breastfeeding as an excuse to eat chocolate before noon every day.
Scout found my morning dessert less than desirable.
Lunch, which I cooked during Marshall's only nap that was not on me: scrambled eggs with pepperjack cheese, some deli turkey, and half an avocado on a tortilla
Afternoon snack: a peach
Dinner, which I completely forgot to photograph: Thai takeout! Terry had a craving. I didn't love it. I had pad thai. Should I try something else?
Dessert: three of these cookies, which I made over the weekend.
Peanut butter cookies with chocolate-peanut butter filling
. I love you,
Smitten Kitchen
.
And here's an upside down photo of Marshall, because I think he looks cute in red stripes.
Happy Wednesday! Hope it was a great one for you! Check out the other WIAWs!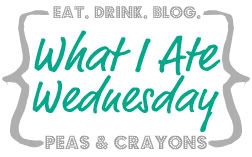 What's your favorite place to walk or run? Is a pedestrian-friendly neighborhood important to you?