I only took a few photos of the food at the resort. Forgive me; I had to see these people throughout the rest of the week, so I didn't want to be that girl. Even though, at heart, I totally am that girl.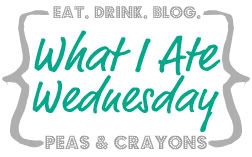 Check out the other WIAWs!
I mentioned that we were really happy with the food, and I'm sorry to say I took photos of the most boring meals.
Freshly baked whole wheat bread, grilled chicken, pineapple, and cheese
Caesar salad and chocolate-banana tart
Tropical drinks!
One night, we ventured off the resort for a fancy meal at
Coco Bistro
, a little gem only ten minutes' walk from Club Med. Terry and I had heard that this restaurant would be delicious, so we called for a reservation before leaving California--good thing, too, because 9 pm on our last night was their only open time!
Luckily, the adventurous walk in the dark to Coco Bistro and the late reservation were absolutely worth it! We LOVED this place! I'm so sad it's in another country. But it's probably best we didn't eat there until the last night; otherwise we would have spent the entire vacation here!
The stunning "decor" was actually very simple: Since the seating was outdoors, a ton of palm trees created an overhead canopy of palm fronds. The lighting created a very romantic atmosphere without feeling stuffy.
Our appetizer: Conch Two Ways--a ceviche and a calamari, plus the most delicious mojito I've ever tasted
Terry's meal: Fresh red snapper, caught that day
My dish: a giant lobster tail
For dessert: Coco Bistro's famous coconut pie
Our sweet waiter offered to take our photo!
From the setting to the service to the food, this night was the best of our trip. We loved everything and absolutely recommend Coco Bistro if you venture to Turks & Caicos!