We're enjoying a rather relaxing Saturday over here. Especially the little guy.
It amazes me that he is this small. And that he can sleep like that.
So much to catch up on, and I just posted
this morning
!
First of all, I forgot to mention that BLWB was featured yesterday on
Healthy Living Blogs
for
Feature Friday
! Special thanks to
Heather
and the rest of the team for a) being awesome and b) introducing me to their awesome community of healthy living bloggers. If you're a blogger, definitely look into joining the terrific community they've got going on over there!
Next up: I'm excited about joining another challenge. This blog started with a challenge:
Let's Eat In
[<--my first post!], where Terry and I ate every meal at home (or homemade) for 30 days. This spring I participated in Tina's
Best Body Boot Camp
, which had me working hard to try different workouts and push my muscles in new ways. Now,
Courtney
has challenged her readers to join her in a
June Yoga Challenge
! Turns out, Courtney and I have a lot in common: We each have a cat, we used to be dancers, she used to be a teacher, and we both want more yoga in our lives. So I'm in!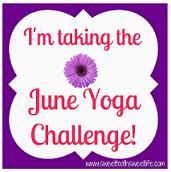 Yeah, that's right. She even made a widget!
The challenge is very flexible, but essentially the goal is to incorporate more (or, for those already dedicated to yoga, new/different) yoga into the month of June. It couldn't have come at a better time, because I have a deal I need to use for YogaWorks, and I'm excited to have yet another reason to push myself to use the unlimited month of yoga as much as possible. I think I will join Courtney in aiming for three yoga sessions per week. Since school ends next week (yowza! more on that another day), I'll have more time to work out, so instead of having yoga replace my normal work outs, I'm hoping to add it to my usual routine. I'll keep you updated!
And another exciting update that I've been meaning to post: my May Foodie Pen Pal reveal! This month I received my package from Becky, and she included some awesome goodies for me.
Yay recycling!
Homemade chocolate chip cookies
Nutella. I am happy now.
Fun pistachios!
Popchips - can you believe I'd never had these before?!
Thanks to Becky for an awesome goodie bag!
To check out what I sent to Heather from For the Love of Kale (awesome blog, by the way!), you can read her post here!
Will you do the yoga challenge with us???