A pretty typical Wednesday with some pretty atypical eats. Luckily it was all delicious!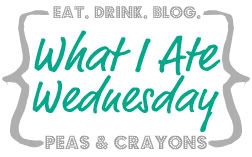 Check out all the other WIAW posts!
6:30 am - Breakfast
Scrambled eggs with a little bit of cheese; turkey bacon leftover from last night's burgers; blueberries; tea
12:15 pm - Lunch
A new salad recipe!
1/4 cup chickpeas
shredded chicken
crumbled feta cheese
3 cups spinach
chopped red onion
chopped cucumber
fresh lemon juice + red wine vinegar + oregano
This salad was fantastic! I honestly wasn't too excited about it, because I didn't know how much I would like it. Turns out I had nothing to worry about!
3:00 pm - Banana
6:30 pm - Dinner
My coworker Eileen and I went to dinner together at the Pasadena location of Lemonade, a newish restaurant popping up all over the greater LA area. I am super excited about this restaurant. I may or may not have eaten there twice in the last three days. Don't judge me.
The decor is adorable.
The food is served cafeteria style and features about a dozen cold salads, sandwiches, fancier dishes like caprese stacks, braises, and soups. Plus desserts! And, of course, lemonade.
(These photos were from our Monday adventure to Lemonade.)
Tonight I ate four salads:
broccoli with champagne vinaigrette and ricotta
snap peas and edamame
arugula with strawberries, blue cheese, and balsamic
sweet potatoes with pistachio
I also ordered a seriously scrumptious and refreshing blueberry mint lemonade.
Eileen's meal: sweet potatoes and chicken bisque
What a cute idea for a restaurant! Terry and I can't wait to go back and try more of their selection--like the truffle mac n' cheese!
9:30 pm - Dessert
Not a bad day! I threw some yoga in there with my cheerleaders, which was a blast. We couldn't get the video to work, so I just made up a little routine, and they were totally into it. We had fun trying all the balances, and we found out that some girls were pretty awesome at yoga!
Have you tried any delicious restaurants lately? What are some must-try places?